Regulation News|Rebaudioside M and 8 Other New Food Additives for Public
---
---
Consultation
Rebaudioside M is a natural sweetener, which is a kind of glycoside extracted from Stevia rebaudiana. The public consultation on Rebaudioside M as a new food additive species will have an important impact on its legalization process.
The legalization of rebaudioside M will further promote the development of the stevia industry. As a natural sweetener, rebaudioside M has the advantages of low calorie and high sweetness, and is widely used in beverages, candies, chewing gum and other foods. If it can be legalized, it will further broaden the application fields of steviol glycosides and bring more business opportunities and development space for the industry.
The legalization of rebaudioside M will also promote consumer awareness and acceptance of steviol glycosides. As a new type of sweetener, steviol glycosides have gradually gained recognition and favor in the market. If Rebaudioside M can successfully apply to become a new food additive, then this will further enhance consumers' trust and acceptance of Stevioside and promote its popularity and application in the market.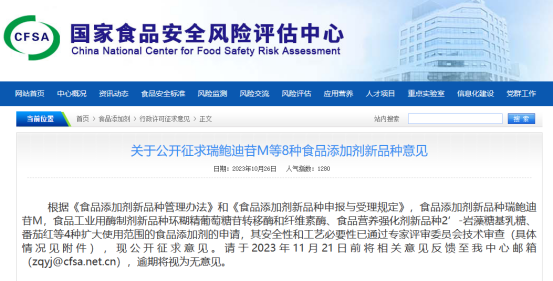 The details are as follows:
I. New Varieties of Food Additive
Chinese name:Rebaudioside M
English Name:Rebaudioside M
Functional classification: Sweetener
II. New Varieties of Enzymes for Food Industry
Cyclodextrin glucosyltransferase and cellulase are applied as new varieties of enzyme preparations.
The quality specifications of enzyme preparations for food industry should be in accordance with the provisions of National Standard for Food Safety Food Additives Enzyme Preparations for Food Industry (GB 1886.174).
III. New Varieties of Food Nutritional Enhancer
Chinese name: 2'-Fucose-based lactose
English name: 2'-fucosyllactose, 2'-FL
Functional classification: Food fortifier
The dosage, scope of use and quality specification of 2'-fucosyllactose are in accordance with the Announcement No.8 of 2023 of the National Health Commission.
IV. Food Additives with Expanded Scope of Use
Lycopene, polyoxyethylene (20) sorbitan monooleate (also known as Tween 80), rosemary extract, vitamin E (dl-alpha-tocopherol, d-alpha-tocopherol, mixed tocopherol concentrate ), the four food additives application to expand the scope of application.
---